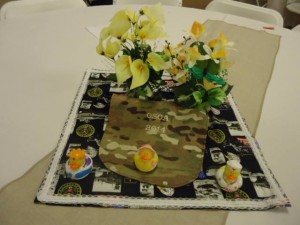 Baby Care Package & Stork in a Bag Program
This program is specifically designed for families stationed in areas we currently don't have a baby shower event located.  All the same guidelines apply to this program.  Once your application has been processed, we will notify you.
OSOAmil is now accepting requests for our Baby Care Packages to families stationed overseas.  To participate, families must complete our application process and provide a valid APO/FPO mailing address.
Please note, we cannot ship until an APO/FPO is provided.
If your application is approved then you will receive a baby care package in the mail.  If we have a Stork in a Bag coordinator in your area, they will be in touch for you to pick up items from them.
Documents Needed:
ALL APPLICANTS MUST HAVE:
Fully completed OSOAmil Baby Care Package Application (link will open in a new window/tab) (this is used for both programs)
Command Verification Statement (select appropriate form and upload this into the online registration form)
Current LES or DD214 or Pay Stub (you will need to upload this in the online registration form)
Personal email address (govt email addresses will not currently accept all our emails)
OSOAmil is a non-profit organization. We reserve the right to refuse assistance to any person or persons regardless of their military service status and are not obligated to offer assistance.
[Formstack id="1659157″ viewkey="1Lpob5u4sh" ]