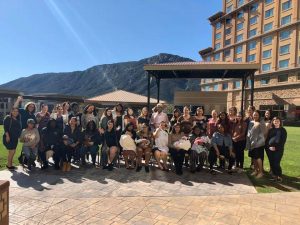 2023 Military Baby Shower Schedule

Expectant Mothers can apply online at https://www.osoamil.org/showers/application
Due to Covid-19, we had to change our programs for 2023 a bit.
Registration is open up to Enlisted Military and Reserves E1-E8, O1, Wounded Warriors, Veterans, First Responders, and their families.  Our priority is given to junior enlisted families and the need of each family is also taken into consideration.  All others are determined by space available and the needs of the families.
Registration for our Baby Showers Program is ongoing.  Our showers are for moms currently expecting and babies no older than 3 months.  OSOAmil sends out exclusive invitations for each event.  Our staff will determine the best event for your family.  All events are 100% participation.  If you have any questions, please see our FAQ page or contact us at [email protected]
2023 Showers:
Southern California: Drive Thru Social Distance Military Baby Showers 
February 25th
May 13th
August 5th
October 14th
(dates subject to change)
Fort Bragg, North Carolina : Drive Thru Social Distance Military Baby Showers 
More information coming soon!
All other locations for 2023 can apply for a Baby Care Package.